For the Record: Nov. 4, 2022.
It's Bandcamp Friday again! Check out these recommendations for new and recent releases, plus upcoming titles.
Lead in.
For the Record is a regular round-up of new and upcoming recordings of interest to the new-music community – contemporary classical music and jazz, electronic and electroacoustic music, and idioms for which no clever genre name has been coined – on CD, vinyl LP, cassette, digital-only formats… you name it.
This list of release dates is culled from press releases, Amazon, Bandcamp, and other  internet stores and sources, social-media posts, and online resources such as Discogs. Dates cited typically correspond to initial U.S. release, and are subject to change. (Links to Amazon, used when all else fails, do not imply endorsement.)
After publication, new listings are incorporated into For the Record: The Master List, a continuously updated resource exclusively accessible to paying Night After Night subscribers, found here.
These listings are not comprehensive—nor could they be! To submit a forthcoming recording for consideration, email information to nightafternight@icloud.com.
Please note that all opinions expressed herein are solely my own, and do not express the views or opinions of my employer.‌
---
It's Bandcamp Friday.
You know the deal: Today's one of those special days when the uncommonly altruistic music sales platform Bandcamp waives its share of sales, meaning that more money reaches the independent artists and labels who've come to count on the site for sustenance throughout the pandemic and its unsettled aftermath. There's at least one more of these days coming up this year, too, on Dec. 2. (You can always check isitbandcampfriday.com to learn the score.)
Word of desirable new online exclusives and preorders worth jumping for has been trickling in all week, and regular Bandcamp patrons know to anticipate a massive influx. One nice blip I'm seeing this time is covetable older releases debuting in affordable new configurations. For instance, Destination: OUT, which administers the vital FMP catalog, is breaking out for the first time individual titles from the monumental Cecil Taylor in Berlin '88 box set, a few at a time. Everything from this set is essential, even the relatively lesser encounters; among the first batch of four, you can't go wrong with the roaring orchestral set Alms/Tiergarten (Spree) and the supreme finesse of Regalia, a duo with percussionist Paul Lovens.
Likewise, the famous Jimmy Lyons 5CD box set issued by Ayler Records in 2003 is slated to hit the label's Bandcamp page today in two configurations: the original physical release, and a digital-only highlights edition.
Album of the week.
Akropolis Reed Quintet
Hymns for Private Use
Bright Shiny Things (CD, DL)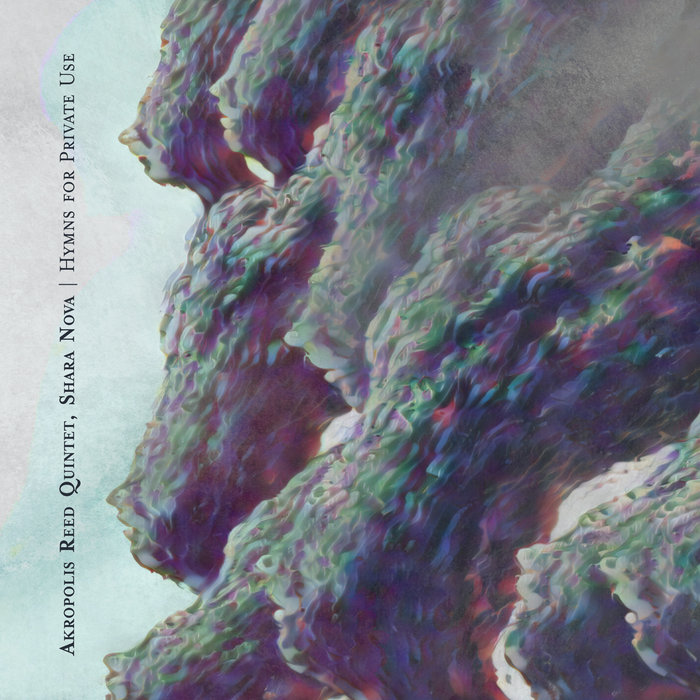 Last Friday, Akropolis Reed Quintet issued a new album titled Hymns for Private Use, comprising appealing new compositions by Nico Muhly and Annika K. Socolofsky. Muhly's work, which lent its title to the album, is a set of five lovely, human-scale devotionals, sung by Shara Nova in her characteristically arresting manner.
Socolofsky's so much more also features the voice: specifically, spoken testimony from seven small business owners who live and work in four states, interviewed during the long months of pandemic shutdown in 2020. Full disclosure: In addition to being an excellent composer and performer, Socolofsky is a friendly acquaintance who I tapped several times to write some of the most popular and engaging essays published by National Sawdust Log—so I'm not at all surprised by her ability to identify and illuminate common threads among disparate narratives of pride and perseverence, and then weave them together with infectious music.
Turns out, the music is just half of the story. The project also includes a video by filmmaker Xuan, who similarly strikes an elegant balance among the various elements at play. Speech and music combine with documentary video and colorful design, resulting in an irresistibly optimistic hymn to community.
Bonus tracks
I've not had sufficient time to digest many of the albums arriving today, though the new Tyshawn Sorey set is a monster gig, the Patrick Shiroishi album on Touch is very special, and I'm immediately impressed with new releases from Yonatan Gat, INSUB Meta Orchestra, and Tom Skinner listed further down. But I'll gladly flag a few strong recent arrivals that have improved my quality of life lately…
The second essential release by Dutch pianist and composer Reinier van Houdt to arrive from Elsewhere this year (following drift nowhere past/the adventure of sleep in May), lieues d'ombres is a magisterial overview of solo piano works Swiss composer Jürg Frey wrote between 1984 and 2008. It's an ideal matching of creator and interpreter, van Houdt expertly balancing the rigor and spontaneity required by the plainspoken poetry of Frey's music. Put it on your shelf alongside van Houdt's similarly necessary Michael Pisaro-Liu set, the earth and the sky.
It's been a while since I'd heard anything new from Portuguese bassist Margarida Garcia, who was responsible for some thrilling improvisational work with fellow travelers like Eddie Prévost, Mattin, Barry Weisblat, Ruth Barberan, and Ferran Fages in the early oughts. This muzzy meditation provides a welcome opportunity to become reacquainted.
Finally, a snap endorsement for an album that actually did arrive today: Bassist, composer, and bandleader Timothy Norton is a name new to me, but the eight elegant mainstream jazz compositions on his new album, Visions of Phaedrus, are instantly appealing. His band – which includes local stalwarts Jerome Sabbagh, Randy Ingram, and Kush Adabey, among others – plays them beautifully. A most impressive introduction.
---
‌New this week.‌
Baldruin - Kleine Freuden (mappa)
Tim Berne & Gregg Belisle-Chi - ZONE 1 (Screwgun)
Surya Botofasina - Everyone's Children (Spiritmuse)
Jakob Bro/Joe Lovano - Once Around the Room – A Tribute to Paul Motian (ECM)
Leo Chang & Lucie Vítková - Religion (Tripticks Tapes)
Henning Christiansen - Ziegenmarkt/Afghanistan (Henning Christiansen Archives)
Disorder at the Border with Tobias Delius - Kataklisma (Fundacja Słuchaj)
Joe Fiedler - The Howland Sessions (Multiphonics)
Fraser/Ángeles/Nazary - Aqrabuamelu (Tripticks Tapes)
Yonatan Gat - American Quartet (Stone Tapes)
Randy Gloss - "…The Ayes Have It" Vol. II: Self-Portraits in Percussion (Orenda)
Forbes Graham - Staring Out at This World (self-released)
Jean-Luc Guionnet - Dyslexic Harp (Deciphered in the Dark) - Rhodri Davies (Amgen)
Ross Hammond - A Bright Light (Full Spectrum)
Horse Lords - Comradely Objects (RVNGIntl.)
INSUB Meta Orchestra - Acceleration (INSUB.)
Matt McBane - Bathymetry - Sandbox Percussion (Cantaloupe Music)
Joe Morris & Jeremy Brown - Magnitude (Fundacja Słuchaj)
Joe Morris/Agusti Fernandez/Brad Barrett/DoYeon Kim - Other Galaxies (Fundacja Słuchaj)
Timothy Norton - Visions of Phaedrus (Truth Revolution)
The N.Y. Clarinet Society (Perry Robinson, Michael Marcus, Jay Rosen) - Coco (Fundacja Słuchaj; recorded 2016)
Justin Purtill feat. Leo Genovese and Sean Conly - Simple Twist (577 Records)
Timuçin Şahin's Flow State - Funk Poems for 'Bird' (New Focus)
isaac io schankler - Genome Sketches (self-released)
Seabuckthorn - Of No Such Place (laaps)
Patrick Shiroishi - Evergreen (Touch)
Tom Skinner - Voices of Bishara (International Anthem)
Sergio Sorrentino and John King - Bending Light (self-released)
Tyshawn Sorey -  The Off-Off Broadway Guide to Synergism (Pi Recordings)
---
Just announced.‌
November 10
Andrew Oda - Back to the Body (mappa)
November 11
Baltic Firs - Contemporary Ruin (Round Bale)
Family Ravine - Jumpthefox (Round Bale)
Joanna Mattrey & gabby fluke-mogul - Oracle (Relative Pitch)
November 17
Kensho Nakamura - Electric Rust (mappa)
November 18
Joakim Blattmann - Stegla (Dinzu Artefacts)
Dimitriadis, Dörner, Freedman, Parkins, Williams - BeingFive (Relative Pitch)
Matt Evans - Soft Science (Moon Glyph)
Avram Fefer Quartet - Juba Lee (Clean Feed)
LAMIEE. - NEN (Dinzu Artefacts)
Chantal Michelle - Pulse, Puls-ar, Procession (Dinzu Artefacts)
Pulverize the Sound (Peter Evans, Tim Dahl, Mike Pride) - Black (More Is More)
Drew Wesely - Blank Body (Infrequent Seams)
November 25
Henry Dagg and Evan Parker - Then Through Now (False Walls)
Unscientific Italians - Play the Music of Bill Frisell, Vol. 2 (Hora; LP, DL) and Play the Music of Bill Frisell, Vol. 1 & 2 (Hora; CD, DL)
December 2
Christopher Cerrone - The Air Suspended - performances by Shai Wosner, Argus Quartet, Pat Swoboda, and Pittsburgh New Music Ensemble (New Focus)
Hildur Guðnadóttir - Women Talking (Original Motion Picture Soundtrack) (Mercury Classics)
Clara Levy - 13 Visions (Discreet Editions)
December 5
Ben Frost - Broken Spectre (Vinyl Factory Productions)
January 20
Melaine Dalibert - Magic Square (Flau)
---
Lookout for hope.