For the Record: Oct. 14, 2022.
An album of the week from Robin Holcomb… plus dozens of listings for new and upcoming releases.
Lead in.
For the Record is a regular round-up of new and upcoming recordings of interest to the new-music community – contemporary classical music and jazz, electronic and electroacoustic music, and idioms for which no clever genre name has been coined – on CD, vinyl LP, cassette, digital-only formats… you name it.
This list of release dates is culled from press releases, Amazon, Bandcamp, and other  internet stores and sources, social-media posts, and online resources such as Discogs. Dates cited typically correspond to initial U.S. release, and are subject to change. (Links to Amazon, used when all else fails, do not imply endorsement.)
After publication, new listings are incorporated into For the Record: The Master List, a continuously updated resource exclusively accessible to paying Night After Night subscribers, found here.
These listings are not comprehensive—nor could they be! To submit a forthcoming recording for consideration, email information to nightafternight@icloud.com.
Please note that all opinions expressed herein are solely my own, and do not express the views or opinions of my employer.‌
---
Album of the week.
Robin Holcomb
One Way or Another, Vol 1
(Westerlies; DL)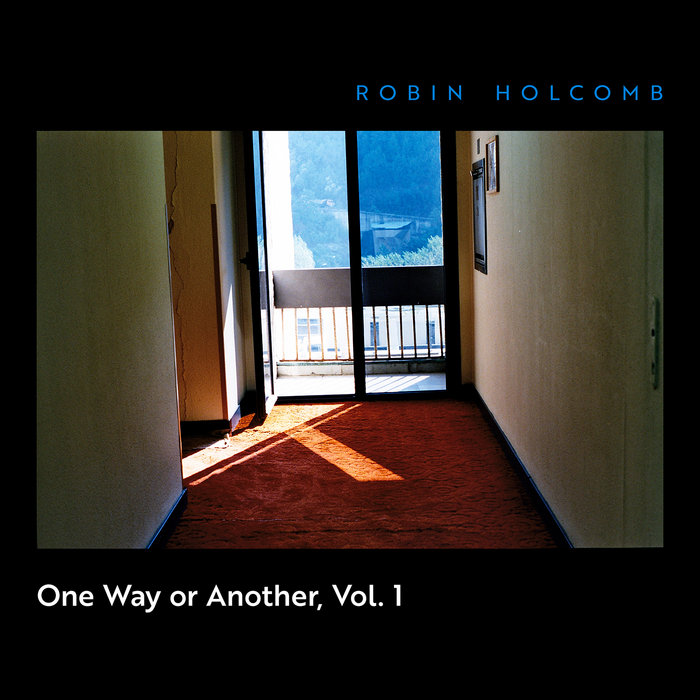 It's not like Robin Holcomb vanished completely after the release of The Big Time, her fourth and final album for one or another arty appendix of the Warner Bros. conglomerate. But it's understandable if you thought she did, given the comparative whisper of releases following that influential 12-year stretch.
Holcomb, a Georgia-born, South Bay-nurtured pianist, poet, ethnomusicologist, and ex-sharecropper, made her initial splash in New York's downtown milieu of the 1980s. That period is documented by two brilliant, elusive LPs (Larks, They Crazy and Todos Santos) on the long-deceased label Sound Aspects, and two albums by the valiantly quixotic New York Composers Orchestra (The New York Composers Orchestra and First Program in Standard Time) on New World.
Her self-titled debut for Elektra, released in 1990, introduced a Holcomb only hinted at previously: an ingenious crafter of songs that sounded old and new at once, sophisticated harmonies fused to plaintive melodies and evocative lyrics. Her tough and tender vignettes, hymns, and ballads could sound like Walker Evans photographs brought to life, and she delivered them in a reedy quaver that complemented, and sometimes clashed with, a smoothly urbane band of fellow downtowners like Bill Frisell, Doug Wieselman, and her husband, Wayne Horvitz.
Successive albums showcased Holcomb's singing and songwriting from different perspectives. Rockabye (1992), its polished twang exemplified in the memorable single "Help a Man," was prototype Americana. Little Three (1996) was branded as a Nonesuch release, presumably because Holcomb gave the band a break and, especially in the substantial "Wherein Lies the Good," concentrated on piano and composition. (A year later, Holcomb reasserted her roots-music bona fides with a substantial guest appearance on Bill Frisell's rootsiest effort, Nashville.)
The Big Time (2002) was effectively apotheosis and culmination, uniting Holcomb with Frisell and most of Horvitz's brainy bar band, Zony Mash, along with guests like Danny Barnes and the McGarrigle Sisters, all awash in Tucker Martine's densely atmospheric production.
Thereafter, according to the promotional text that accompanies her new album, Holcomb focused on "her composing, her family, and her garden." Based in Seattle, she wrote librettos, song cycles, and chamber music, issued a few scattered recordings on Songlines and Tzadik, and sang and played on a prodigious 2021 release by a newer steady collaborator, bassoonist Sara Schoenbeck.
Now, with One Way or Another, Vol. 1 – newly issued on a label named for and run by The Westerlies, a brass quartet that memorably covered "Wherein Lies the Good" in an album of the same name – Holcomb revisits her singer-songwriter era… literally, in a sense, given that much of the album comprises songs Holcomb first recorded during her Elektra stint. Holcomb's playing remains authoritative, and passing years have only made her voice more compellingly nuanced.
Potent selections like "Electrical Storm" and "Rockabye" live anew in these stripped-down performances, nestled alongside bold covers of "Hard Times Come Around No More" and "I've Got That Feeling." Songs previously undocumented, like "Once," prove Holcomb hasn't lost her knack for an arresting line:
Once I was a woman
And once I was a wife
Once I wrote a Bible
And once I took a life
Happily, alongside this new album comes a freestanding, limited-edition book of lyrics and a generous handful of tour dates. And happier still, the "Vol. 1" of the title promises more to come. Admirers will be grateful, newcomers persuaded.
Robin Holcomb performs with Sara Schoenbeck/Wayne Horvitz at Roulette on Nov. 10 at 8pm; roulette.org
---
‌New this week.‌
Mattie Barbier - threads (Sofa)
Ryan Carter - On a Better Filtering Algorithm - Present Music/David Bloom (Kairos)
Samuel Cedillo - Estudios - performances by UNTREF String Quartet, Lumina Ensemble, and Ensamble Liminar (Kairos)
Anthony Cheung - Music for Film, Sculpture, and Captions - performances by Ueli Wiget, Ensemble Modern/Franck Ollu, Ensemble Dal Niente/Michael Lewanski, Ensemble Musikfabrik/Elena Schwarz (Kairos)
crys cole - Other Meetings (Black Truffle)
Deniz Cuylan - Rings of Juniper (Hush Hush)
Ivan Fedele - Works for Violin - Francesco D'Orazio (Kairos)
Christopher Fox - Trostlieder - EXAUDI/James Weeks (Kairos)
Sam Gendel - blueblue (Leaving)
Malcolm Goldstein/Fred Lonberg-Holm - Missa Amissa (Notice Recordings)
Rachel Grimes, Angélica Negrón, Shara Nova, Caroline Shaw, and Sarah Kirkland Snider - The Blue Hour - Shara Nova, A Far Cry (New Amsterdam/Nonesuch)
Eren Gümrükçüoğlu - Pareidolia - performances by JACK Quartet, Conrad Tao, Zulfugar Baghirov, Thom Monks, Mivos Quartet, Deviant Septet, and Ensemble Suono Giallo (New Focus)
Robin Holcomb - One Way or Another, Vol. 1 (Westerlies)
Mirela Ivičević - Scarlet Songs - performances by Klangforum Wien/Ilan Volkov, Bas Wiegers, and The Black Page Orchestra/Juan Martín Miceli, Vasilis Tsiatsianis (Kairos)
Chuck Johnson & JWPATON - Tangled mirror yarn (Longform Editions)
Sunik Kim - Raid on the White Tiger Regiment (Notice Recordings)
L.A. Signal Lab - Water and Power (Orenda)
Little Wings - Froggy's (Astral Editions)
Raphael Loher - Keemuun (three:four)
Nico Muhly/Alice Goodman - The Street - Parker Ramsay, King's College Choir (King's College Recordings)
No Base Trio - NBT II (Setola di Maiale)
Ruven Nunez - Untitled No. 51 (Longform Editions)
Matthew J. Rolin - Passing (American Dreams)
claire rousay & E. Fishpool - Distance therapy (Longform Editions)
Andres Røysum/Christian Meaas Svendsen/Kresten Osgood - Music Improvised on September 23rd, 2021 (Astral Spirits)
Susana Santos Silva & Alexandra Nilsson - Radio Two (Superpang)
Damon Smith/Louis Wall/NNN Cook - Fire Point (Notice Recordings)
Jan Martin Smørdal/Øystein Wyller Odden - Kraftbalanse (Sofa)
Kristofer Svensson - Väntar där dimma uppstår - Evan Runyon (kuyin)
Alex Weiser - water hollows stone - Hocket (Bright Shiny Things)
Tatsuhisa Yamamoto - scoria (Longform Editions)
Ingar Zach - Musica Liquida (Sofa)
---
Just announced.‌
October 21
Tim Berne & Matt Mitchell - One More, Please (Intakt)
Kaja Draksler & Susana Santos Silva - Grow (Intakt)
October 28
Milton Babbitt - Works for Treble Voice and Piano - Nina Berman, Steve Beck (New Focus)
Keiji Haino/Jim O'Rourke/Oren Ambarchi - "Caught in the dilemma of being made to choose" This makes the modesty which should never been closed off itself Continue to ask itself: "Ready or not?" (Black Truffle)
Steve Long - Code Talker II (Astral Spirits)
November 4
Leo Chang & Lucie Vítková - Religion (Tripticks Tapes)
Fraser/Ángeles/Nazary - Aqrabuamelu (Tripticks Tapes)
November 11
Brian Mulligan - Alburnum - compositions by Mason Bates, Missy Mazzoli, and Gregory Spears (Bright Shiny Things)
Sugar Vendil - May We Know Our Own Strength - performances by Sugar Vendil, Hajnal Pivnick, and Nouveau Classical Project (Gold Bolus)
November 18
Rebecca Saunders - Skin - performances by Christian Dierstein, Dirk Rothbrust, Rundfunk-Sinfonieorchester Berlin/Enno Poppe, Quatuor Diotima, and Julia Fraser, Klangforum Wien/Bas Wiegers (NMC)
December 16
VÖ - The Sounds of VÖ (thanatosis)
---
Thank you all.