For the Record: Oct. 21, 2022.
The album of the week from Sophia Subbayya Vastek… plus dozens of listings for new and upcoming recordings.
Lead in.
For the Record is a regular round-up of new and upcoming recordings of interest to the new-music community – contemporary classical music and jazz, electronic and electroacoustic music, and idioms for which no clever genre name has been coined – on CD, vinyl LP, cassette, digital-only formats… you name it.
This list of release dates is culled from press releases, Amazon, Bandcamp, and other  internet stores and sources, social-media posts, and online resources such as Discogs. Dates cited typically correspond to initial U.S. release, and are subject to change. (Links to Amazon, used when all else fails, do not imply endorsement.)
After publication, new listings are incorporated into For the Record: The Master List, a continuously updated resource exclusively accessible to paying Night After Night subscribers, found here.
These listings are not comprehensive—nor could they be! To submit a forthcoming recording for consideration, email information to nightafternight@icloud.com.
Please note that all opinions expressed herein are solely my own, and do not express the views or opinions of my employer.‌
---
Album of the week.
Sophia Subbayya Vastek
In Our Softening
(self-released; CD, LP, DL)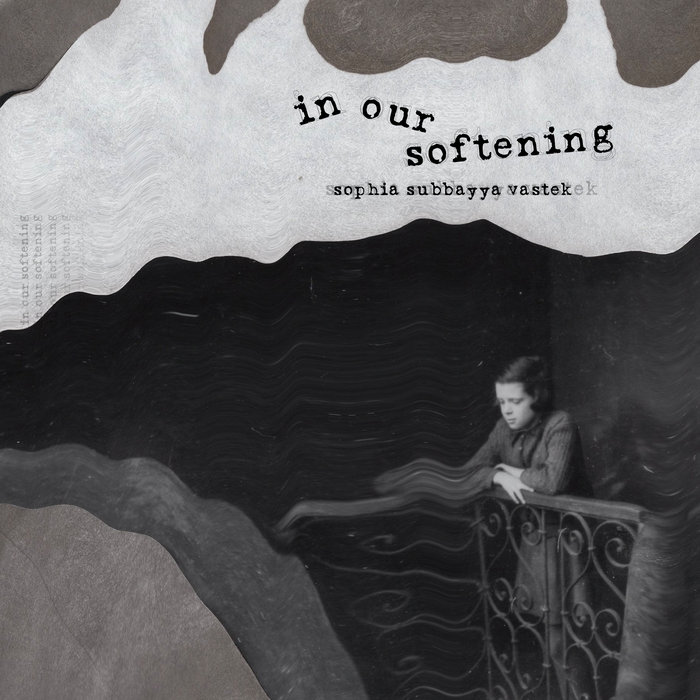 Even if Sophia Subbayya Vastek hadn't had the abundance of heart and decency to reclaim a piano haunted by the spirit of hatred, In Our Softening still would be one of the very best things I've heard all year.
I first encountered Vastek around five years ago, when a memorable recital of brief works by Michael Byron, Jo Kondo, Linda Catlin Smith, Michael Vincent Waller, and others at Spectrum marked her as a skillful, sensitive pianist worth watching. That impression was reinforced by Histories, an album of works by John Cage, Michael Harrison, and Donnacha Dennehy, issued that same year on Innova.
In Our Softening also demonstrates Vastek's skills and sensitivities. But the project feels wholly different, not least because the music is her own, and it involves the aforementioned piano: a modest upright instrument Vastek found during the early months of pandemic, in a Troy, NY church occupied previously by a hate group in all but name. (The press release for the album recounts the details vividly and succinctly, which spares me from doing so here.)
Branding Vastek's music a neo-Romantic strain of post-minimalism is more or less accurate, yet sells short the dreamy whorls, eddies, and currents she produces. The list of composers above puts you in the right neighborhood; add Harold Budd, for sure. One more-animated selection, "Lost Histories," when it hits its stride sounds like whirling-dervish music on a Fender Rhodes. Vastek's modestly sublime pieces are complemented by an instrument that sounds soft, mellow, warm, despite tics and clicks born of wear and disuse, which never distract or detract. She captured her nine dreamy pieces in an ideally gauzy recording, made at home with her husband, Sam Torres, behind the mixing board.
You can hear in this music, if you wish, echoes of a pianist who found a measure of personal salvation in an instrument found by chance at a time of isolation and crisis—and, perhaps, an instrument restored from darkness into luminosity. And even if you're not captivated by the story, the music won't be denied.
---
‌New this week.‌
Noah Alonzo - Short Cycled (Full Spectrum)
Tim Berne & Matt Mitchell - One More, Please (Intakt)
Whit Dickey Quartet - Root Perspectives (TAO Forms)
Kaja Draksler & Susana Santos Silva - Grow (Intakt)
Earth Room (Ezra Feinberg, Robbie Lee, John Thayer) - Earth Room (Related States)
Hildur Guðnadóttir - TÁR (Music from and Inspired by the Motion Picture) (Deutsche Grammophon)
Maya Homburger, Barry Guy, Lucas Niggli - Acanthis (Maya)
Clarice Jensen - Esthesis (130701/FatCat)
Maggie Nichols - Are You Ready? (Otoroku)
Pauline Oliveros & James Ilgenfritz - Altamirage (Infrequent Seams)
Paul Pinto, Andrew Livingston - "Fauna" (self-released)
Playfield - Stepping Out (577 Records)
Rubbish Music (Kate Carr & Iain Chambers) - Upcycling (Flaming Pines)
Darian Donovan Thomas - Individuate - performances by Sō Percussion, Bergamot Quartet, Shelby Blezinger-McCay, Kasey Blezinger (self-released; 2022)
Sophia Subbayya Vastek - In Our Softening (self-released)
---
Just announced.‌
October 25
Tamarisk - Plays a Word for Sun (Waveform Alphabet)
October 28
Rick Burkhardt - Passover - thingNY (Innova)
Kelsey Mines - Look Like (Relative Pitch)
November 3
Baldruin - Kleine Freuden (mappa)
Patrick Shiroishi - Evergreen (Touch)
November 4
Ross Hammond - A Bright Light (Full Spectrum)
Timuçin Şahin's Flow State - Funk Poems for 'Bird' (New Focus)
Tyshawn Sorey -  The Off-Off Broadway Guide to Synergism (Pi Recordings; new date)
November 11
Ben LaMar Gay - Certain Reveries (International Anthem)
Aaron Myers-Brooks - Oblique (New Focus)
November 18
Sarah Davachi - In Concert & In Residence (Late Music)
Else Marie Pade - EMP1: En digter og en komponist - performances by Elsa Marie Pade, Mikkel Pade, and Peter Steen (Dacapo)
Else Marie Pade - The Orchestral Album - performances by Christina Åstrand, Michael Frank Møller, and Malmö Opera Orchestra/Joachim Gustafsson (Dacapo)
Rauelsson and Tatu Rönkkö - Myriadi (Beacon Sound)
December 2
Olli Aarni - Koko maailma (Students of Decay)
Corey Smythe - Smoke Gets in Your Eyes (Pyroclastic)
---
Safe journey.